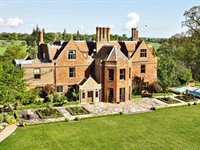 Stanlake Park Wine Estate
Picture acres of neat vines laden with many varieties of plump grapes; Gamay, Ortega, Wurzer and the classic Champagne varieties : Pinot Noir and Chardonnay. They ripen in the warm sun and thrive in the loamy, well-drained soil before being harvested and turned into wine in the start-of-the-art and on-site winery. You're probably thinking of a vineyard in France, or Australia.
But no, this is Stanlake Park Wine Estate just outside Twyford in Berkshire, and it is leading the way in English wine production.
Today, Stanlake Park is one of the UK's most successful wine producers. In a high yielding vintage, we will press as many as 200 tons of grapes and make more individual wines than any other winery in Britain.